5 Golden Rules for Sustainable Gardening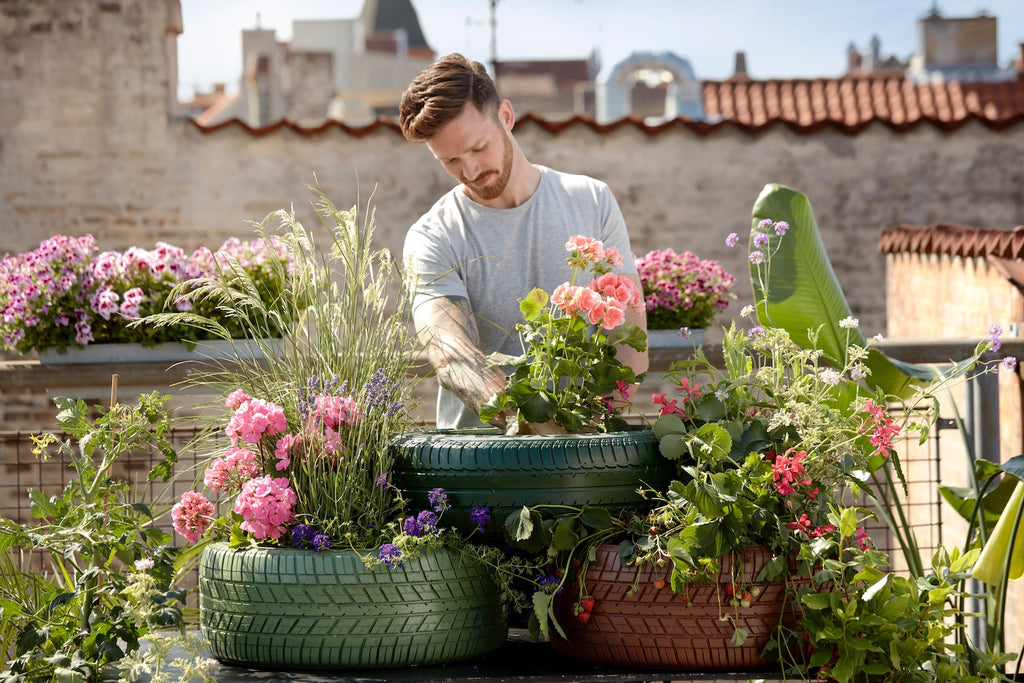 There's a tendency to think that all gardening is inherently eco-friendly - but the reality is that many of the everyday gardening techniques and products used across the UK, and indeed the globe, aren't environmentally friendly at all.
From single-use plastic plant pots and twines to peat-based composts and harmful fertiliser chemicals, without realising it, our green efforts could be doing more harm than good to our precious planet.
Fear not, though - we're sharing some sustainable gardening golden rules that will guide you on your mission to embrace an eco-friendly approach to gardening in 2023 and beyond.
1. Use sustainable planters and landscaping materials
Rule #1 of eco-friendly gardening is to use sustainable materials for landscaping and planting.
Minimising the amount of single-use materials is one way to go eco-friendly with your gardening, but there's plenty of room for upcycling and repurposing items into usable materials, too.
From seedling containers made from newspaper or cardboard to reclaimed wooden beams for raised beds and terracotta planters, the key is to find environmentally friendly options. This might involve finding pieces made from organic, renewable or biodegradable materials, and making use of materials that have exceptional longevity such as concrete, porcelain outdoor tiles and metal.
The end result will mean more durable landscaping and gardening that promotes sustainability across the board.
2. Go organic with your soil
Rule #2 is to give your garden the right growing medium that's kind to the planet and your plants.
This means making sure your soil and compost is rich with nutrients, chemical-free and 100% organic.
For ground beds, our environmentally friendly gardening tip is to boost the fertility of the soil with an organic fertiliser and peat-free compost blend. Designed to give plants all of the essential nutrients they need, these ingredients will help to improve soil stability, drainage and moisture retention.
For your planters, choose a suitable organic container compost growing medium that promotes healthy growth and root establishment, while also regulating the slow release of nutrients and moisture within the soil.
For the ultimate finishing touch, top your soil and compost with a sustainable bark mulch blend which will naturally control weeds while sealing in moisture to help your plants flourish.
3. Plant for wildlife - not just for beauty
The third rule of sustainable gardening is to commit to planting a variety of different plants that promote all-important biodiversity.
Even in urban areas, you can create a stunning outdoor space that matches your aesthetic ideals while providing a welcome haven for local wildlife. There really is something special about seeing butterflies, bees, birds and more flocking to your flower beds.
To achieve this, look to introduce a diverse range of plant species able to provide food and shelter for different kinds of wildlife and aid pollination for bees and butterflies.
From fragrant herbaceous plants and flowers like lavender, rosemary and roses to shrubs and trees, you want to attract myriad insect species that provide a food source for other wildlife, including birds, frogs and newts.
You can even include a water feature with reeds, lilies and other plants to welcome even more wildlife into your home, as well as an attractive design feature and water harvesting system.
4. Conserve water
While we're on the subject of water harvesting, sustainable gardening rule #4 is to conserve water wherever you can.
If you're serious about increasing the sustainability of your gardening efforts, it's important to consider your garden's water consumption. As a finite resource, responsible gardeners need to do their bit to use less water - but that doesn't mean you have to settle for a brown, scorched landscape.
A few sustainable gardening ideas for conserving water include downsizing your water-guzzling lawn in favour of mulched flower beds and hardscape areas like patios, gravel pathways and decking.
You can also introduce a water harvesting system using water butts to collect rainwater, giving you a free water source that's also better for your plants. Rainwater hasn't been purified for drinking purposes, so it contains many natural nutrients that can be returned to the soil.
5. Grow your own
With rule #5, the idea is simple - you grow your own plants rather than buying them in.
Whether you want to try your hand at growing edible plants such as fruit and vegetables or you plan on populating your beds with flowers and shrubs, you can have free rein over what goes in your own garden.
Naturally, this is a little more labour-intensive - but understanding the origins of your plants and having peace of mind that they haven't been treated with any harmful chemicals will help you to cultivate a more eco-friendly garden.
To boost your growing yields, get your growing medium right and opt for native plants wherever possible. You could also save yourself time by growing perennials which can be divided out each year and planted elsewhere.
And that's not all. Watching seeds grow into healthy plants in your garden can be an incredibly satisfying experience - and you can take it one step further by harvesting seeds and cuttings from existing plants each year, ready to plant again or dish out to family and friends.
Growing plants sustainably doesn't have to be take the joy out of gardening - it can actually make this already planet-friendly activity all the more rewarding. With these golden rules for sustainable gardening front of mind, you can build a solid foundation for organic, eco-friendly growing this year and beyond.
To give your garden the ingredients it needs for all-natural, eco-friendly gardening, take a look at our online range of organic coir compost now - and stay in the loop on product updates and sustainable gardening tips with the help of our blog.