Focus on: a green-fingered domestic gardener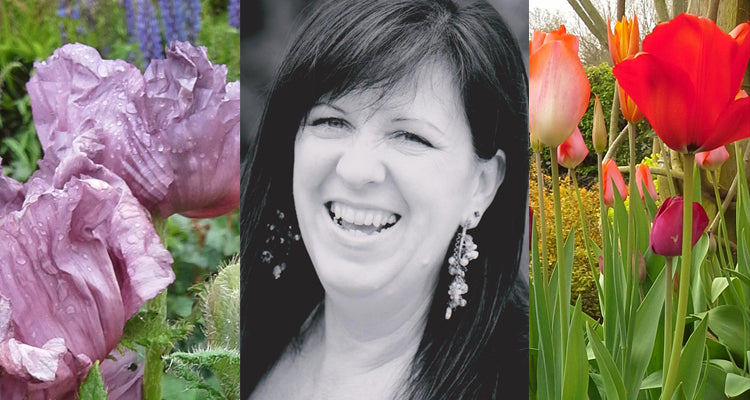 We may be compost suppliers to stately homes and commercial growers, but many a domestic gardener loves Fertile Fibre too! We caught up with our part-time secretary and long-term customer Caroline. She's an enthusiastic fruit, veg and flower gardener with lots of experience:
When did you start gardening in Herefordshire?
"We've been tending our three quarters of an acre for more than 20 years. It's no show garden "" the borders are full of weeds! But we've worked hard over the years to clear out endless rubbish left by previous tenants. The garden is now a productive space."
What type of fruit and vegetables do you grow?
"We grow all the usual veg but are lucky to have a large polytunnel. This means we can cultivate a wider range of plants particularly Mediterranean veg such as peppers, tomatoes, aubergines and chillis. We've also been busy replacing old, unproductive fruit trees with new stock."
Home-grown peppers and aubergines
What challenges do you face as a domestic gardener?
"We live on the outskirts of a Herefordshire village with fields either side. This means we're reasonably exposed. As a result, the 2018 "˜Beast from the East' storm made short work of our old polytunnel cover. The fleeces protecting tender plants inside the polytunnel ended up being festooned across the metal frame like a load of bridal veils!"
How long have you been using Fertile Fibre?
"I've been using Fertile Fibre for more than 15 years. I experimented over the years with other peat-free composts but just didn't get the same results."
Why do you use Fertile Fibre compost?
"We can't keep using peat based composts. Peat is a finite resource and we have to start using viable alternatives. Once it's lost, we lose entire eco systems which have taken many hundreds of years to develop. We need these fabulous bogs to absorb water and release it in a controlled fashion. Especially in our warming climate which is producing increasingly large amounts of rainfall. On a practical note, the product is such a joy to use. The compost is light and clean and I can use it all day with no effects on my skin or staining on my hands."
A bumper pumpkin and squash crop
Have you a favourite compost mix?
"I love both the seed and potting mixes. I grow a lot from seed and everything germinates well in the seed mix. The Potting mix is a must for all my container planting - the summer geraniums particularly love it and I always get a vibrant show of flowers. I'm not a very exact gardener - I'll just try things out and nine times out of ten am delighted with just how simple it is to grow things."
Have you any other tips?
"We find coir is a great soil improver and really adds organic matter to improve the structure of old or compressed soil. Just scatter coir bales onto ground you wish to improve and wait for rain. The bales swell up with the rain and break up and it's simply a matter of spreading out the coir and digging it in! If you are in a hurry - just rehydrate the bales in a wheelbarrow.
Primula auricula are a firm favourite of Caroline's
Who is your gardening hero?
"I love
Carol Klein
. Her plant knowledge is astonishing and her enthusiasm - very inspirational."
.@CarolKlein explores the inner secrets and botanical history of four of the nation's favourite garden plants, revealing how evolution and mankind have conspired to create their unique characteristics. Watch #PlantOdysseys on @BBCTwo at 7.20am on Sunday 28th October pic.twitter.com/hBeKZNeiL8

"" Curtis Brown Presenters (@CBGPresenters) 27 October 2018
Where do you go for gardening inspiration?
"Any open garden is always a great opportunity for a domestic gardener to see new plants and different planting schemes. Locally I always enjoy a trip to
Stockton Bury Gardens
, near Leominster. We often visit for lunch and always come back with new ideas."
What's next for your garden?
"After re-sheeting the polytunnel, we are hoping the winter winds will be kind to us this time. I would also love to establish a cutting bed of flowers. Oh and I think I better get on and tackle some of those weeds!" Our
potting compost
and
seed compost
can be ordered online with next day delivery in the UK mainland.