Focus on: the peat-free gardening masterpiece Cragside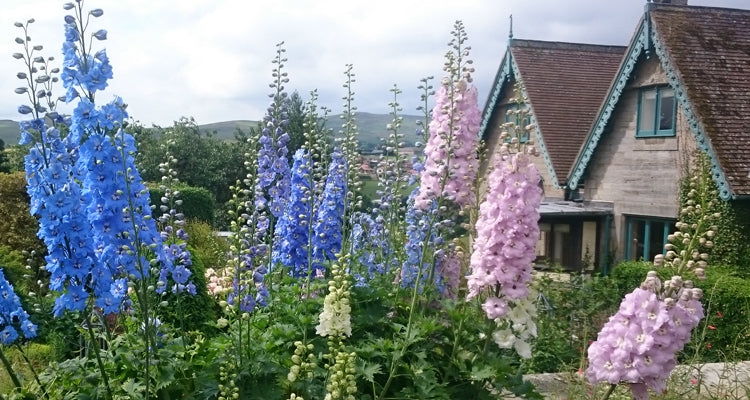 As guardians of 40 peatland Sites of Special Scientific Interest, the
National Trust
only uses peat-free gardening products. We are proud to supply many of their properties, including Cragside House, Gardens and Woodlands near Rothbury, Northumberland. Read on for insights by Senior Gardener Dale Stevens about this magnificent spot:
What type of gardens can be found at Cragside?
"We look after a Pinetum, one of Europe's largest Rock Garden and a Victorian Formal Garden. The formal gardens are divided into three distinct terraces with high Victorian borders and traditional carpet bedding. We have around 30,000 plants, many raised from seed and cuttings."
What is a typical Cragside plant?
"We focus mainly on tender perennials and seeded plants within the formal gardens. Our salvias can grow to more than six feet high. Fuchsias, begonias and pelargoniums also grow exceptionally well."
What are your busiest times as gardeners?
"We rely heavily on seed and cuttings. We take cuttings at the end of August, cutting back borders at the end of October. Plants are held in our greenhouse which bursts at the seams.
Peat-free cuttings - copyright National Trust
Greenhouse at Cragside - copyright National Trust
In February, we take cuttings from stock plants. We bed out the big tender perennials when they're about eight to 12 inches tall, at the beginning of June. The rest of the month is spent bedding out from five-inch pots."
Why do you use Fertile Fibre?
"As we are 300 feet above sea level our growing season is short. With four gardeners for 40 acres, time is a luxury. If there's a problem, it takes us two years to build stock back up. We therefore need a reliable supply of good, consistent compost for our peat-free gardening. We've tried other peat-free products but only had limited success compared to Fertile Fibre."
When's the best time to visit Cragside?
"The spring bulbs are glorious from mid-April. For the borders, the beginning of June and late August are the perfect time to see the colour and contrast. We also have an autumn colour walk."
Cragside's autumn colour walk - copyright National Trust
Have you a favourite compost mix for peat-free gardening?
"The
Fertile Fibre potting loam mix
is great for bit of "˜oomph'. There's enough food to keep cuttings going until they're put into the borders. It's working an absolute treat."
Planning a visit to Northumberland?
To find out more about Cragside, please take a look at the
Cragside website
. If you do visit and take any photos, we'd love to see them. Please share them with us on
Twitter
and
Facebook
!