Focus on: the quality peat-free gardens of Hanbury Hall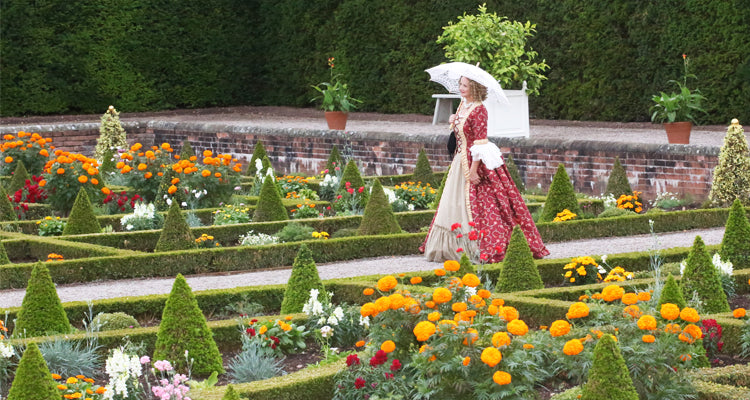 The National Trust is leading the way in sustainable gardening. It makes sure to only use quality peat-free products. We supply many of their properties, including Hanbury Hall and Gardens near Droitwich Spa. Head Gardener Neil Cook explains more about this special place:
What type of gardens can be found at Hanbury?
"The gardens are a recreation of very formal gardens from the early eighteenth century designed by
George London
. They are made up of low hedges, clipped box shapes and hundreds of bulbs and bedding plants such as Sweet Williams, marigolds and snapdragons. The Great Garden including the Parterre was restored with help from planting lists written by
royal gardener Henry Wise
. Our later organic walled kitchen garden supplies our tearooms with produce such as tomatoes, French beans and gooseberries."
Hanbury Hall vegetables - copyright Neil Cook
What's a typical Hanbury plant?
"Probably box hedging. We also have an impressive collection of citrus plants and exotic plants such as agaves, oleanders and pomegranates."
Hanbury Hall box hedging - copyright Neil Cook
What gardening challenges do you face at Hanbury?
"It's a lovely spot, but as we're in the middle of the country away from the coast, winters can be cold. Fortunately, the polytunnels help with this. The underlying soil is heavy clay, but digging in organic matter like Fertile Fibre has really improved it."
How long have you been using Fertile Fibre?
"We've been using Fertile Fibre ever since
Rob Hurst invented it back in 1989
."
Why do you use Fertile Fibre compost?
"It's good for everything. We haven't found anything that doesn't like it."
What's a good tip when using Fertile Fibre?
"Some of our volunteer gardeners tend to want to over-compact the compost. You need to give it room to breathe, especially when potting on in the spring and for over the winter."
Hanbury Hall tulip bed - copyright Neil Cook
Have you a favourite compost mix?
"Fertile Fibre's
seed compost
and
potting loam compost
always provide consistent results."
What's next for Hanbury Hall?
"We're looking forward to expanding Kytes Orchard, an area of beautiful cut flowers in a pear orchard."
See this quality peat-free spot for yourself!
Find out more about Hanbury Hall
on their website
.