Focus on: peatfree compost users Shugborough Estate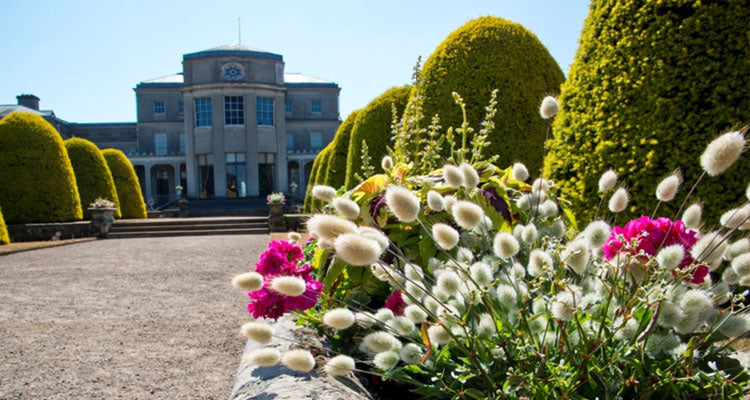 One of the most prolific peatfree compost users in England and Wales is The National Trust. They only use peat-free products in their gardens. We supply quite a few of their properties, including the beautiful Shugborough Estate near Stafford. We caught up with Senior Gardener Caroline Beacall to find out more about this amazing property and how they use our compost. Caroline is a bit of a star, given she won a rare City & Guilds Medal for Excellence award when she was just a trainee gardener.
What type of gardens can be found at Shugborough?
"Shugborough has 52 acres of grounds including one and half acres of walled gardens. These are part of the Grade I listed landscape. There are pleasure gardens, an Arboretum, a kitchen garden and formal gardens. There are many scenic Grade I and II starred listed monuments dotted around the grounds too."
The grounds at Shugborough - copyright The National Trust
What's a typical Shugborough plant?
"We have a couple of standout specimens. Our iconic wisteria is absolutely stunning when it's in full flower. The best way to see its progress is to check out the photos posted on the
Shugborough Estate Facebook page
. Our
great yew
has a canopy the size of London's Royal Albert Hall and is in the record books as the widest tree in the UK."
What gardening challenges do you face at Shugborough?
"After the Lichfields gave Shugborough to the National Trust in 1960, it was looked after by the county council. It returned to the National Trust in November 2016 and we opened in March 2017. We're therefore starting from scratch when it comes to plants, machinery and even our biosecurity procedures. Also because of the distances involved, it can be an effort to get around the estate. It takes 10 minutes just to walk from the walled garden to the formal gardens! Our soil is friable and acidic with good draining so is perfect for rhododendrons. The River Sow and Shrebrook flow through the gardens. This means there's always a risk of floodwater. Although hopefully nothing will match the Great Flood of 1795 when snow meltwater swept away features such as The Cascade and Pagoda. Fortunately The Chinese House, Ruin and Shepherd's Monument survived."
What's the history of the gardens at Shugborough?
"The landscape was redesigned in the early nineteenth century by Thomas Anson who inherited the fortune built up by his younger brother George. George, or more formally Admiral Anson, was known as 'the father of the British navy' and was a privateer of Spanish galleons. Cutting-edge technology such as canals and railways helped shape the grounds. We try to keep innovation at the forefront of our minds even now. For example we have a robot Husqvarna Automower called Molly. We are also establishing Shugborough as a centre of excellence in trainig and horticulture. I hope that Mr William McMurtrie, the Head Gardener here from 1815 to 1836, would approve."
How long have you been a peatfree compost user?
"I was first introduced to Fertile Fibre compost 15 years ago when I worked at
Hanbury Hall
."
Potatoes at Shugborough - copyright David Goache
Why do you use Fertile Fibre compost?
"It's just so lovely to use, consistent and delivers good results."
What's a good tip when using Fertile Fibre?
"Don't compress it too much. It's best to take a seed tray, level it off and then water the soil. The process of watering will compact the compost just enough."
Have you a favourite compost mix?
"It has to be the
Fertile Fibre seed compost
. We've never had any problems with it. It's a reliable safety net for our most precious plants, namely the vegetables."
What's next for Shugborough?
"We want to balance the needs of conservation and horticulture with those of the visitor. The dahlia "˜glasshouse' uses willow wands and dahlias to help visualize the "˜ghost' of the old building. It's a playful way to interact with the space. I'd love to develop the Arboretum further. We're also encouraging flower arranging, painting and flora identification in the grounds."
Shugborough's Dahlia Glasshouse copyright David Goacher
More photos and insights
Caroline recommends reading visitor
Lottie Newitt's blog about Shugborough Estate Walled Garden
.
See the results of these peatfree compost users in person
Find out more on the
Shugborough Estate website
.